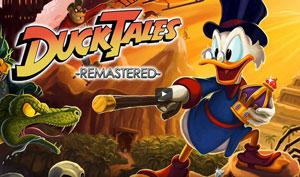 Old School 8-bit Fans Rejoice!
Life was like a hurricane earlier today at PAX East 2013 when Capcom lifted the curtain on a brand new remastered take on an old 8-Bit classic! "Duck Tales Remastered" is the product of an amazing collaboration between Capcom, Disney, and the talented staff at WayForward (THE specialists in retro gaming throwbacks).
"Duck Tales Remastered", is an enhanced version of the original Nintendo Entertainment System classic from the eighties. Featuring beautifully redrawn characters handled by animators at Disney the game looks visually fantastic! Capcom must also be commended for having gone the length to enlist one of the cartoon's original artists to design the remakes' new 3D backgrounds!
In addition, the title also features a retro remastered soundtrack produced by Jake Kaufman. The musical genius who previously made waves with the soundtrack he mixed for last year's other retro remake "Double Dragon Neon". Covering up the rest of the sound department, many of the original voice actors have returned to one again reprise the roles of old favorites Launchpad McQuack, and even Scrooge McDuck himself!
A tutorial mode has been implemented for newcomers, and what can only be considered a dream come true— a brand new "Scrooge's Money Bin Mode" which allows players a golden opportunity to swim around in Mr. McD's riches! "Duck Tales Remastered" will be available this summer on PSN, Xbox Live, and Nintendo's eShop for $14.99.